Poverty (Tuesday, 2010 November 9)
Went to Bafoussam today to buy a ton of groceries and some housewares — specifically something to use with the non-stick frying pan that I bought, since I don't want to scratch it up any worse — and wound up with a bleach explosion. This makes the second time since I got to country! Not a big deal, except that another shirt is now kitchen rags, and I have a bar of bleached baking chocolate. It'll rinse off, right?
Also, I have spent almost all of this month's allowance already (again). Big ticket items this month were a fût, a barrel or cask, although it's really a garbage can that I'm going to use to store water, which cost 17,500 (I didn't try to haggle; that seemed fair enough for me); a dishdrain (3000 CFA; similar); some cans of meat (beef pâté??) at a thousand CFA each; another bottle of peanuts for 2000 CFA (should have haggled this?); spices (paprika, garlic, and basil, at about 1000 CFA each); and a certain amount of caramel, which is a little like peanut brittle.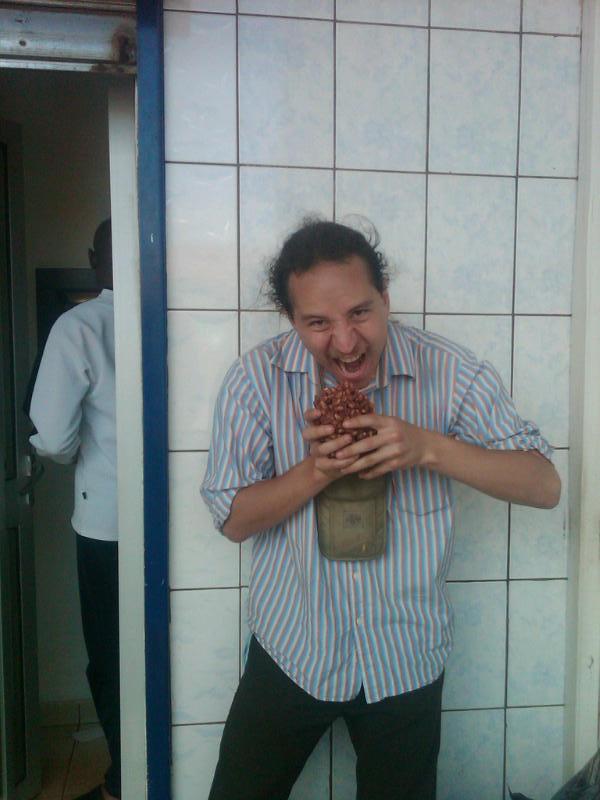 That's mille franc of caramel, and it was good too, better quality than what you get in the village. Picture graciously taken by Christine.
Here are some other random pictures to provide context:
This is Judicael. He's in the same family as Bonheur and Parfait. He's in one of the troisieme classes that I don't teach.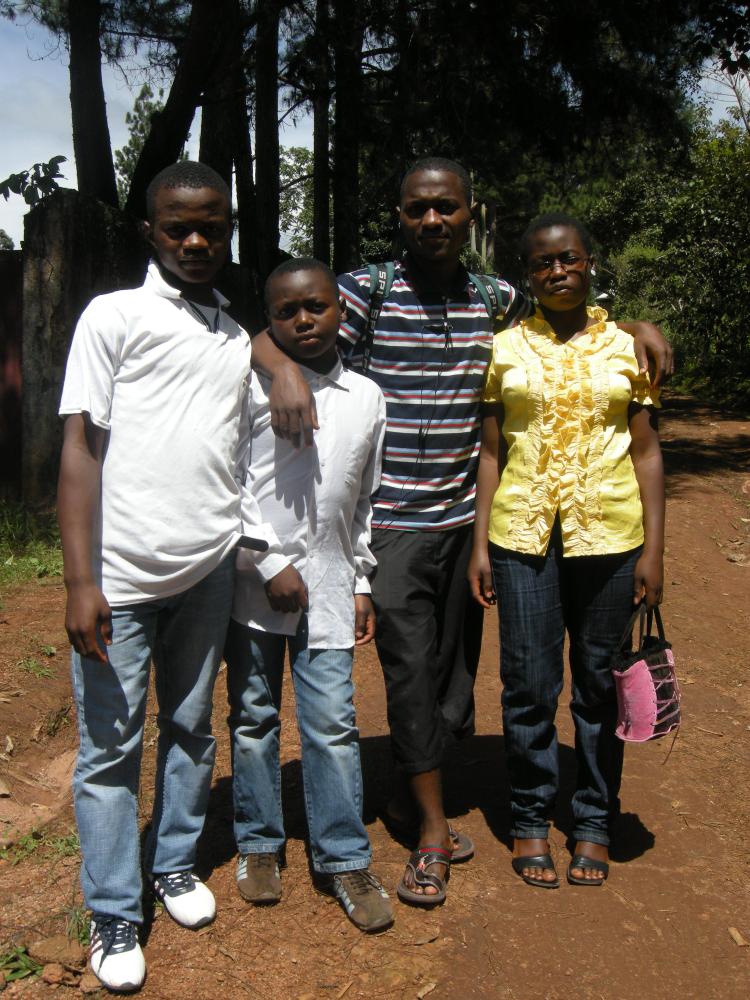 This is about half of their family. They took my camera with them to church one day and took a lot of pictures. From right to left: Judicael, Bonheur, Boris (my terminale student), and Maewa (who is in one of my 3e classes).
Chickens. Parfait half-covered the flash, I think, but it's a pretty striking picture, isn't it? They brought this home yesterday — their mom was in Bafoussam, I guess she got them there.
Close up of the chickies.