Alternance codique (Wednesday, 2017 February 8)
I was briefly in Europe for FOSDEM and to see some of my French coworkers. We flew into Charles de Gaulle and drove up to Brussels, where FOSDEM is, and then drove back for a few days in Paris. I'm on the flight back now.
I've been working now for Mozilla for 9 or 10 months. It's an interesting place, and it has some similarities to being a Volunteer. The first, of course, is that it's a company with a public mission and a global scope. There's also the fact that some 40% of its employees are "remote", meaning not working in an office but rather embedded in some community, and working for its good in a way that feels subversive. In Cameroon, my post was in Batié, but now it's in New York. When it doesn't feel like being a Volunteer, it feels like joining a secret society, one with a proud history and rich traditions. Looking at me, you'd think I'm just some guy working on a laptop, but actually I'm part of a global network of operatives, communicating over the Internet on a frequency that nobody hears, even though anyone can listen to it.
Being in Europe brings out a lot of the same interesting linguistic situations that I was familiar with from my time as a Volunteer. The choice of language felt itself like a logistical concern. Most Cameroonians are Francophone, of course, but the Anglophones feel like an oppressed minority, and so speaking French to one could be seen as an insult. Sometimes people would want to speak English with me because they wanted to practice English, or to show off, and I didn't mind either. When with Americans, we'd normally speak English, but we might drop into French if it was the only language that all participants could understand. Over time I tended to keep my mouth shut until someone addressed me, and then follow them in whatever language they were using. I began to sense a power in that first moment, when the first word comes out. Until you spoke, you might be Dutch, British, French, American. Afterwards, all possibilities were removed but one. I often tried to delay that revelation as long as possible using expedients like non-verbal noises, or the use of brand names (which were the same in both languages).
Belgium at a tech conference is even more complicated, linguistically, than being in Cameroon. Belgium's official languages are Dutch (and/or Flemish), French, and German in some parts. Brussels, being the capital, is a linguistic no-man's-land. But English is the language of tech, and thus of FOSDEM. Still, I found myself switching into a Volunteer "natives speak French, friends speak English" mindset when I ordered at the cafeteria, even though it was staffed by FOSDEM. At the restaurant in Paris where we ate last night, one server overheard our mixed group talking English (the only language everyone supported) and would address us in English, while the other one hadn't noticed and continued to address us in French. In case it wasn't obvious, the title of this blog post is alternance codique, which means "code switching".
FOSDEM itself was a pretty good conference. It's interesting in a lot of ways — it's free, and registration isn't required; you just show up. It's held on a college campus and staffed entirely by volunteers (with a little v). One thing that makes FOSDEM unusual for a tech conference is that they set up "bars" on campus which sell a variety of Belgian beers. Of course I tried almost all of them during the weekend. If I had to select a favorite, I think it might be the cherry lambic that I had, the Kriek.
Brussels is relatively affordable for Europe. Belgian beers in most places were only a few Euro. Like everywhere else in Europe, tax is included in all listed prices, and there's no such thing as a tip. Buses have displays showing the next few stops, and there's also a tram system, and I think a subway as well. Everything is cute and everyone we met was polite.
By contrast, Paris was not what I was expecting from Europe at all. If Brussels is a pleasant but stiff bureaucrat who maintains a formal distance, Paris is an old lady who lives in a corner house and chain-smokes aggressively. She can be mean, but she's had a rich and colorful life and if she invites you to dinner, it's always fascinating. The City of Lights is full of gilding and filigrees and beautiful historical buildings. The place we were staying dates from 1725 or so, but locks on the front door were much more modern and quite substantial, apparently because Paris had a serious burglary problem for a while. While we were waiting for one of our group to pick up a few things in the supermarket, someone shoplifted and the guard chased him down the street. Nothing violent happened per se, but it definitely felt less safe than Brussels.
Apart from a couple bad apples, the Parisians have been lovely. I had a charming if somewhat challenging conversation in French with the check-in counter for Air France about why I didn't have long hair any more like in my passport. (I had been afraid that I wouldn't be able to understand the accents of the people in Europe, but I was gratified to find that I have largely been able to get by.) The food has been quite good when I've been able to get it without milk. Paris is nice, but in the (admittedly short) time I spent there, I didn't really see how people can fall in love with the place, unless you're already powerfully in love with the idea of France or the French.
Some photos:
The place where we stayed in Brussels had some cool nerd junk.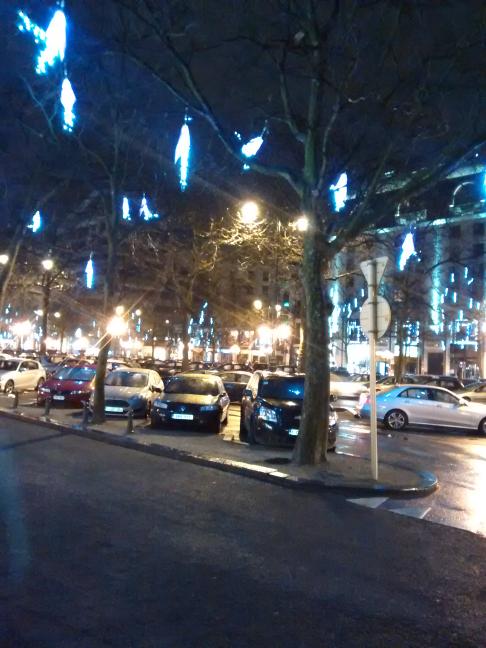 Brussels.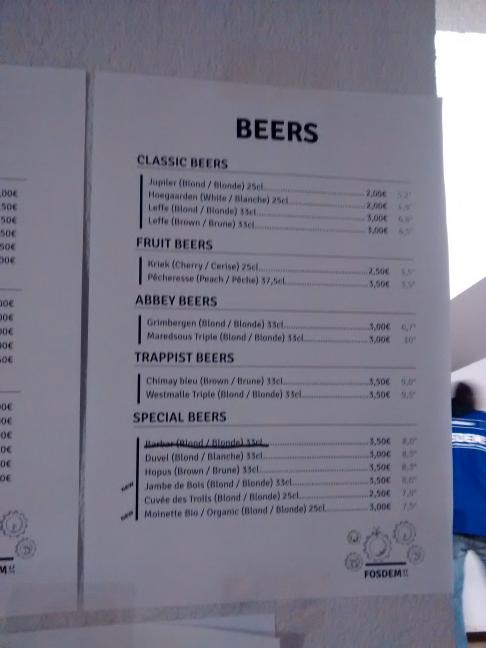 Beer list. For a conference, this is quite a selection!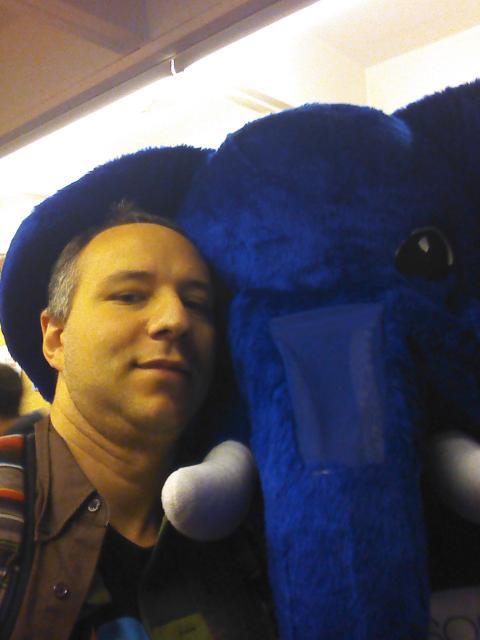 The PostgreSQL elephant was in attendance. Can MySQL do this??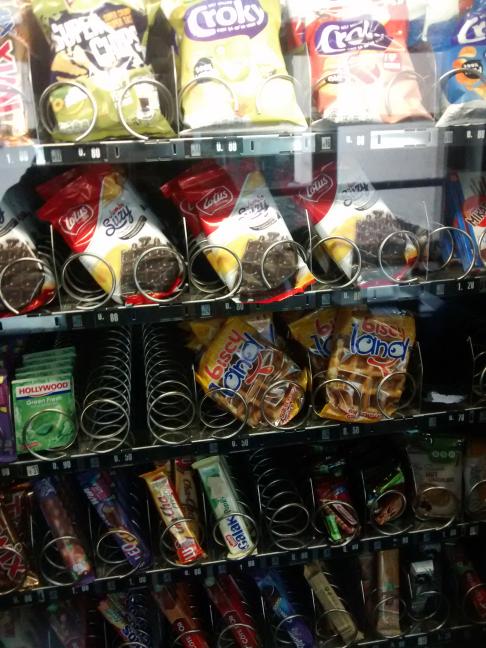 Vending machine waffle. There were fresh ones being made too, but these were only 0.50€ and didn't have milk.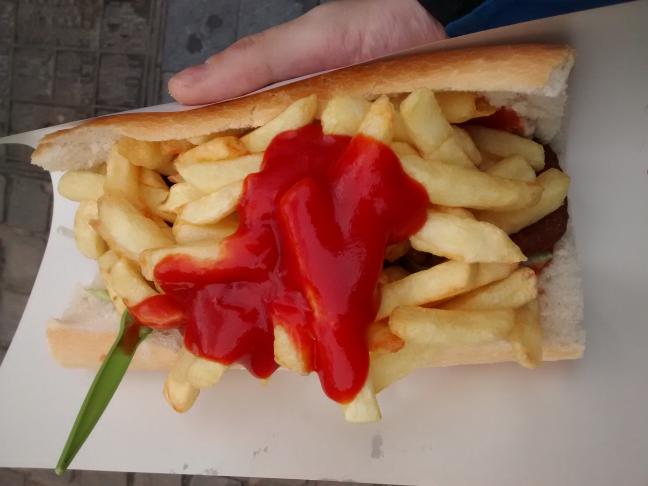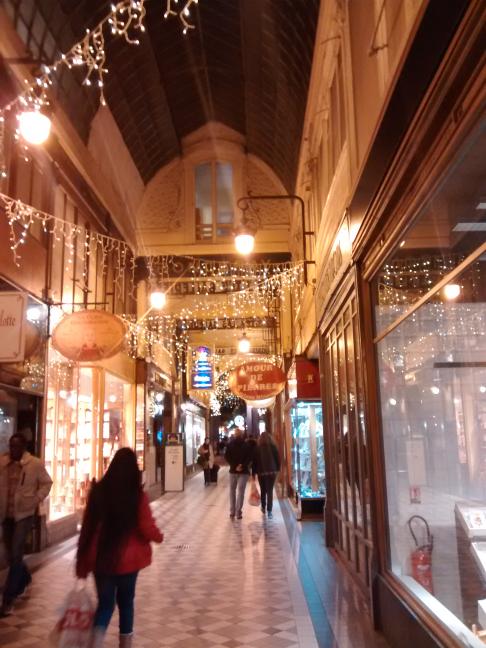 One of the passages/galleries in Paris. These are actually pretty cool; they're not exactly closed to the outdoors, and they have a skylight, so you can feel like you're getting some fresh air, but at the same time it's enclosed enough to be pleasant, even during the winter.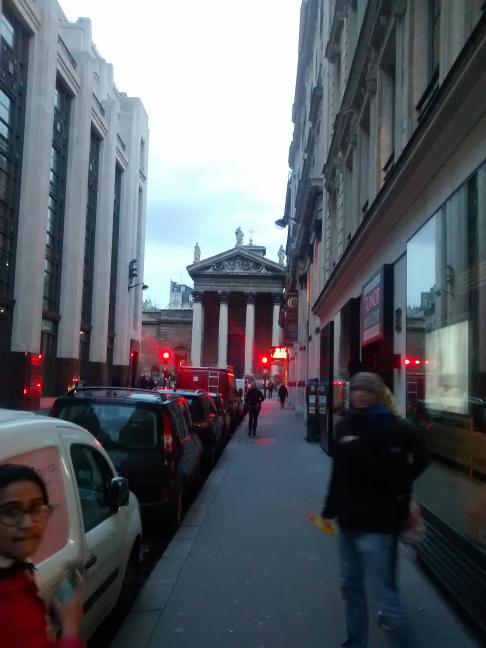 Notre Dame de Lorette, a fancy church in Paris. Also depicted are my teammate Rémy and our intern Mansimar.
My intern Gabi and the adorable Firefox stuffed animal at the Paris office.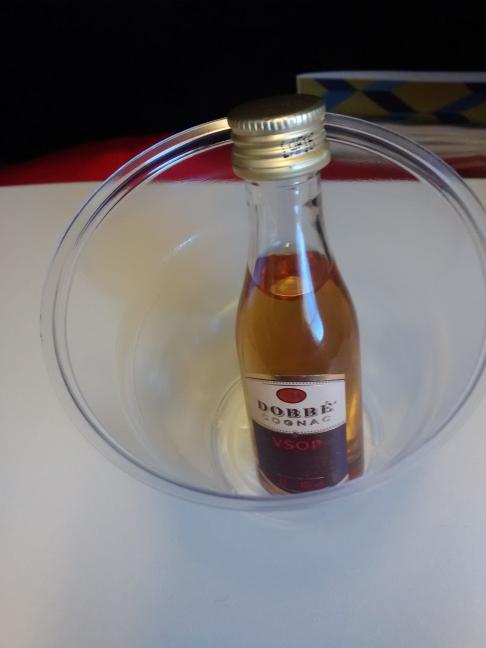 Airplane cognac. Only on Air France…